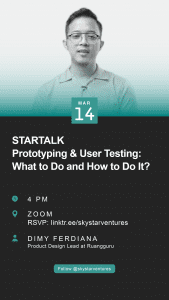 Hi Startup Enthusiasts,
Learning how to effectively prototype and conduct user testing can greatly enhance the quality of a product, as it enables designers to identify and address potential issues early on in the process. By iteratively refining their ideas, designers can create products that are not only visually appealing, but also functional, user-friendly, and responsive to user needs.
Register yourself in the STARTALK program "Prototyping & User Testing: What to Do and How to Do It?" with Dimy Ferdiana – Product Design Lead at Ruangguru!
The learning material you'll discover in this program are:
The differences between a prototype and MVP.

Why business ideas have to be visualized in prototype form.

The steps and components of the prototyping process.

The types, methods, techniques, and tools of prototyping.

The road-map to perform prototype validation
This program is suggested for:
Beginner-Experienced Entrepreneurs

Professional Employees/Fresh Graduates

Product Designer and Specialist
Note the date and time!
Day, Date: Tuesday, Mar 14th, 2023
Time: 4 PM
Live on Zoom, register yourself now at bit.ly/STARTALK14MAR23
You may share information about this activity with all your friends and relatives! Make sure to follow our Instagram @skystarventures before joining the session!
See you soon!