As we all know, due to the mighty Covid-19 virus, working in a physical office has not been an option for the past few weeks. We are forced to work in a virtual one. After a few weeks of doing it, and after some good and bad, satisfying and annoying, relaxing and stressful times, here are some tips that I thought might improve the WFH experience of your team:
Ensure that everyone has access to internet
For some, it might sound so primitive. We are now living in the 21st century and everyone has access to the Internet. In reality, this is unfortunately not the case. Team leader should ensure that some members who have this problem are supported. For example, providing wifi repeater, providing a mobile data package for tethering, providing an incentive to find a place with internet, etc.
Select a messaging/video calling platform
There are many options to do this nowadays. You can use Google Hangout or Zoom for the free options, but if you already pay for Microsoft 365 or Google Suite subscriptions, you may also use Microsoft Team or Google Meet. In addition, when you have to work closely (we call it pair programming), more interactive tools can be used, such as TeamViewer or AnyDesk, where one can connect to the other computer remotely.
Ensure that everyone checks in and out explicitly
In a physical office, this is simply done by coming to the office and saying "good morning" or "hello", but in a virtual one, each team member should do this via the messaging app, and everyone must be disciplined about it. The purpose is to give clarity to the team which team member is available at any given time. This should apply not only when a team member starts, but also when he/she is about to have a break as well as when he/she is done for the day.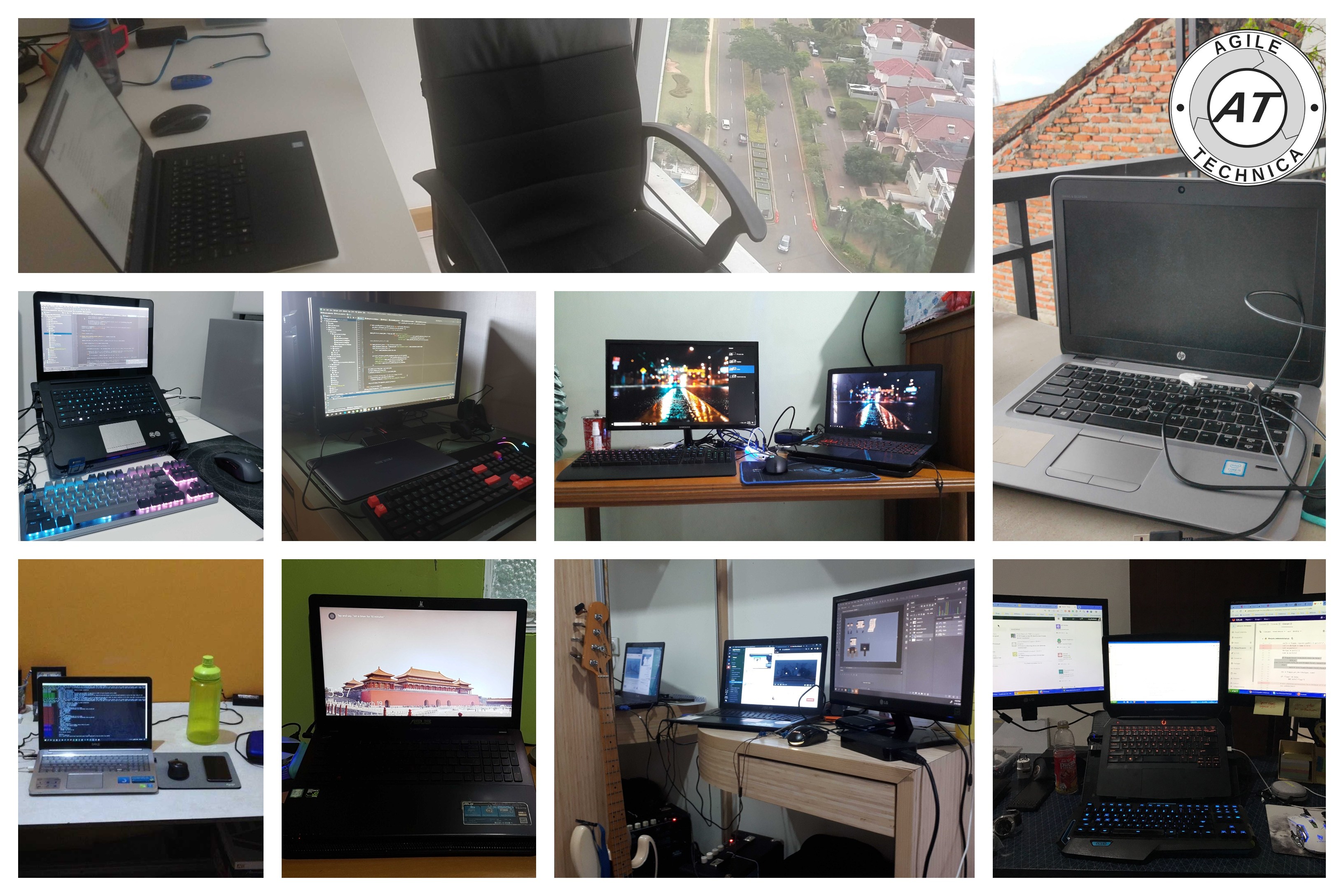 Have a regular short meeting
We call it Standup Meetings, following the Agile Methodology term. Some may have done this even before the WFH period, but it has become even more important during the WFH period because it provides a time where all team members are present at the same time, addressing concerns that they may have about the project. Typical Standups follow this pattern of reporting: what did I do yesterday? What will I do today? And do I have a blocker?
Be communicative and proactive
The downside of WFH is that one cannot see the other team members physically. That means it is difficult to detect that a team member may have a big problem finishing a task, or if another member needs to ask a quick question. In this case, it is a good idea to always be proactive and communicative with each other. This means, asking repeatedly how the other team member is doing, whether he/she has a problem. This might sound annoying, but it actually helps to keep the pace of the project at a maximum.
Organize a fun activity (ONLINE)
WFH is very stressful for most people. External distractions, being stuck alone, not able to express feeling, etc. are often the cause of the stress. Therefore, it is recommended to still have fun during this stressful period. This can be done as simple as by just allocating 15-20 minutes for light chatting or by organizing an online game session. We have tried a couple of times in the team and those are always the times where all the team members can share good laughter.
Ensure that everybody is fit
Mentally and Physically. As mentioned previously, WFH can be stressful. It is recommended to have some short breaks during the day, doing stretching or talking to other people at home (if applicable) or even just snacking something healthy. Sometimes it is the long hours of non-stop staring at the screen that makes us going insane. So please still practice a healthy lifestyle. we all want to get out of this outbreak healthy 🙂
Written By: Hans Permana – Co-Founder of Agile Technica