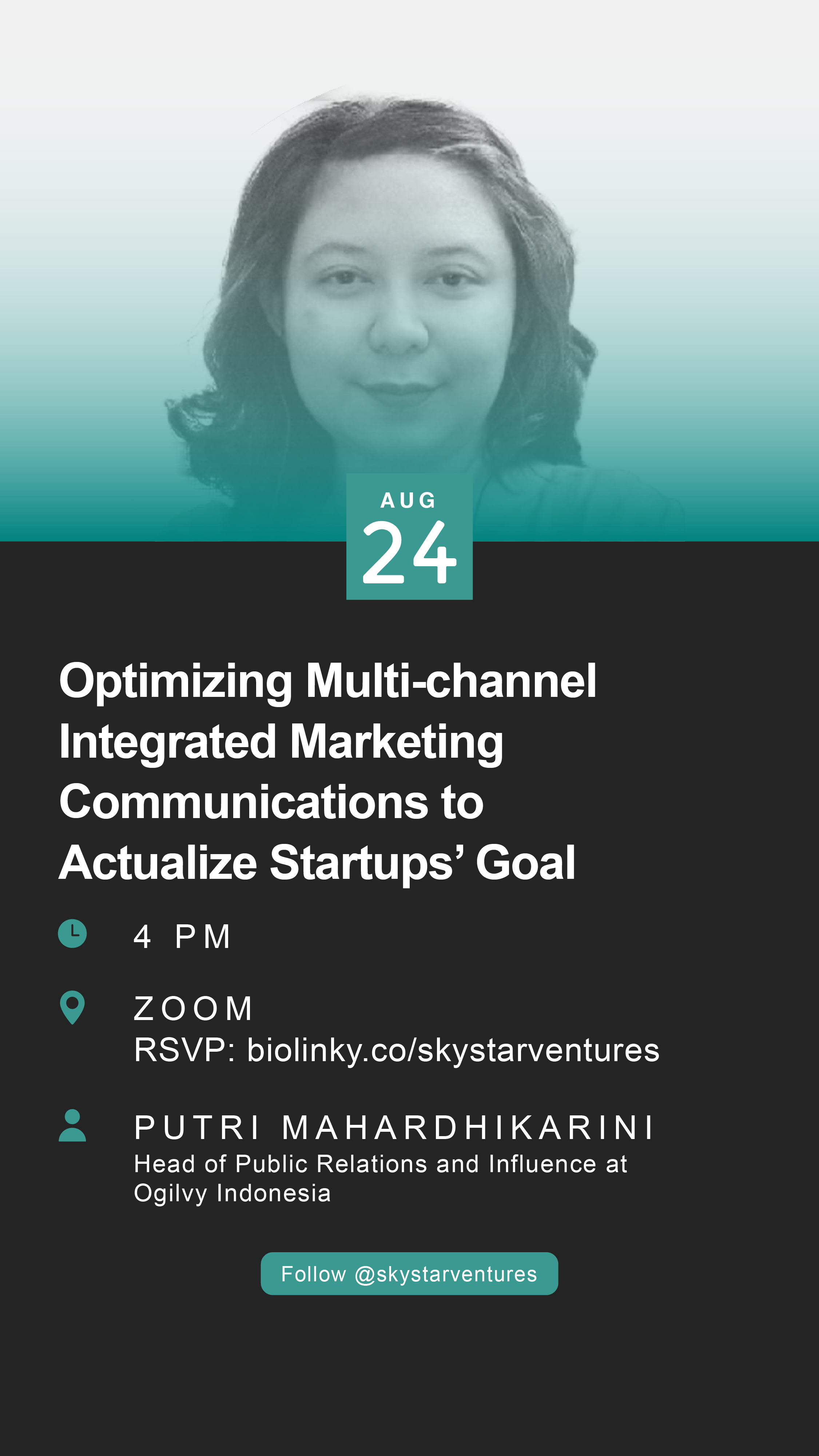 Hi Startup Enthusiast,
Channel pesan komunikasi yang terus bertambah memperbesar kemungkinan startup untuk menggapai target market yang semakin banyak dan beragam. Optimisasi pesan multi-channel bisa sangat bermanfaat dalam strategi marketing startup, terutama media sosial yang memiliki jangkauan luas dan semakin banyak pilihannya. Namun, penyampaian pesan diberbagai channel kadang bisa menjadi boomerang bagi communication goal startup bila tidak direncanakan dengan detil dan terstruktur. Oleh karena itu, diperlukan adanya strategi Integrated Marketing Communication agar pesan yang tersebar diberbagai channel tersebut tetap senada dan teroptimisasi.
Ayo bergabung dan pelajari prosesnya disesi STARTALK "Optimizing Multi-channel Integrated Marketing Communications to Actualize Startups' Goal" bersama Putri Mahardhikarini – Head of Public Relations and Influence at Ogilvy Indonesia!
Catat tanggal dan waktunya!
Hari, Tanggal: Selasa, 24 Agustus 2021
Waktu: 16.00 – 17.30
Live di Zoom, daftarkan dirimu sekarang bit.ly/STARTALK24Agu21
Anda boleh menyebarkan informasi kegiatan ini untuk semua sahabat dan kerabat Anda! Pastikan Anda tidak lupa untuk mengikuti Instagram kami @skystarventures sebelum bergabung ya!
See you soon!