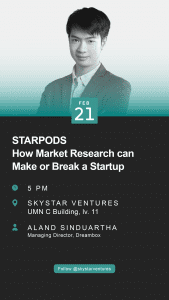 Hi Startup Enthusiasts,
What happens to a startup founded without in-depth market research identification? How big is the impact of market research on the development of a startup? Let's find the answer with Skystar Ventures and [company name]!
Register yourself for the onsite talks STARPODS session "How Market Research can Make or Break a Startup" with Aland Sinduartha – Managing Director of Dreambox!
The learning material you'll discover in this program are:
What exactly do startups gain from doing market research?

The perfect practical example of identifying the process of market research activation.

Why is it necessary to measure and find the proper estimation amount of the startup's target market and its size of it?
This program is suggested for:
Beginner-Experienced Entrepreneurs

Professional Employees/Fresh Graduates

Market Researcher Specialist
Note the date and time!
Day, Date: Tuesday, Feb 21st, 2023
Time: 5 PM
Live on Skystar Ventures' Event Space, New Media Tower Lv.11, Gading Serpong 
Register yourself now at bit.ly/STARPODS21FEB23
You may share information about this activity with all your friends and relatives! Make sure to follow our Instagram @skystarventures before joining the session!
See you soon!