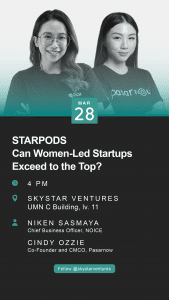 Hi Startup Enthusiasts,
In the opportunity of International Women's Day, Skystar Ventures is bringing together successful women leaders from the startup industry to share their experiences, insights, and advice on how to thrive in a male-dominated industry. From overcoming obstacles to building successful companies, our speakers will offer valuable lessons and strategies for women entrepreneurs and aspiring leaders.
Register yourself for the onsite STARPODS session "Can Women-Led Startups Exceed to the Top?" with Niken Sasmaya – Chief Business Officer at Noice and Cindy Ozzie – Co-Founder, Chief Marketing & Commercial Officer at Pasarnow!
The discussion material you'll discover in this program are:
The journey, struggles, challenges, and chances of a women leader as an inspiring and important role taker that transforms the opportunity and growth of the startup landscape and industry.
This program is suggested for:
Beginner-Experienced Entrepreneurs

Professional Employees/Fresh Graduates
Note the date and time!
Day, Date: Tuesday, Mar 28th, 2023
Time: 5 PM
Live on Skystar Ventures' Event Space, New Media Tower Lv.11, Gading Serpong 
Register yourself now at bit.ly/STARPODS28MAR23
You may share information about this activity with all your friends and relatives! Make sure to follow our Instagram @skystarventures before joining the session!
See you soon!