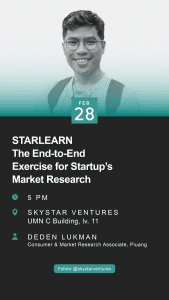 Hi Startup Enthusiasts,
Identification of market research can be the key to building a strong foundation for a startup. How to do the right and thorough market research stages? What are the tools and methodologies that can be used to simplify the market research process for a startup?
Come and register yourself in the onsite workshop program, STARLEARN "The End-to-End Exercise for Startup's Market Research" with Deden Lukman – Consumer & Market Research Associate at Pluang!
The learning material you'll discover in this program are:
The market research methodologies.

The market research tools.

The market research stages.

The steps of doing market research.

Customer mapping practice (customer target & segmentation)
This program is suggested for:
Beginner-Experienced Entrepreneurs

Professional Employees/Fresh Graduates

Market Researcher Specialist
Note the date and time!
Day, Date: Tuesday, Feb 28th, 2023
Time: 5 PM
Live on Skystar Ventures' Event Space, New Media Tower Lv.11, Gading Serpong 
Register yourself now at bit.ly/STARLEARN28FEB23
You may share information about this activity with all your friends and relatives! Make sure to follow our Instagram @skystarventures before joining the session!
See you soon!